v0011-727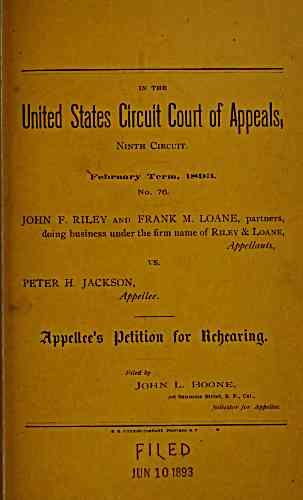 i'
IN THE
V
Uoited Stales Circuit Court of Appeals,
Ninth Circuit.
irlruai'y Term, lOI*.
No. 76.
JOHN F. RILEY and FRANK M. LOANE, partners,
doing business under the firm name of Riley & Loane,
Appellants,
vs.
PETER H. JACKSON,
Appellee.
:7lppcUcc's Petition for Hcl)caring.
Filed by
John l. boone,
206 Saiisome Street, S. F., Cal.,
SoUcilo r J'o r A ppellee.
B 8 ClIOCKBR eOllPirT. PRINTBBS a r
Jl)N101893
---
archive.org Volume Name: govuscourtsca9briefs0011
Volume: http://archive.org/stream/govuscourtsca9briefs0011
Document Link: http://archive.org/stream/govuscourtsca9briefs0011#page/n726/mode/1up
Top Keywords (auto-generated):
patent, decision, damages, patents, tiles, infringement, thurman, section, rights, marks, infringed, building, bearer, wall, places
Top Key Phrases (auto-generated):
section 4920, illuminating tiles, tile manufacturing, special defenses, shoulders extending, riley loane, previous invention, patent system, patent office, nominal damages, loane partners, light constructed, invention knowledge, horizontal shoulders, fifth avenue
Document Status: UGLY