v0025-7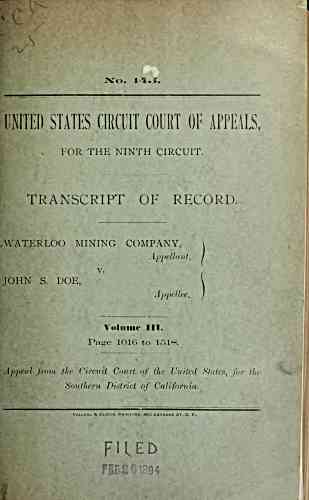 jVo. l-.ji.
UNITED STATES CIRCUIT COURT OF APPEALS,
FOR THE NINTH CIRCUIT.
TRANSCRIPT OF RECORD.
.WATERLOO MINING COMPANY,
Appellant,
JOHN S. DOE,
Appellee,
Volume III.
Page 1016 to 1518.
4ppeal front the Circuit Cmn-t of the United States, for tit
Smiflicru District of California.
Valleau & Oliver. Printers, 403 Sansome St.,S. F.
FILED
---
archive.org Volume Name: govuscourtsca9briefs0025
Volume: http://archive.org/stream/govuscourtsca9briefs0025
Document Link: http://archive.org/stream/govuscourtsca9briefs0025#page/n6/mode/1up
Top Keywords (auto-generated):
vein, map, ore, level, mining, veins, rock, liparite, mesick, king, cross, doe, tufa, herrin, wall
Top Key Phrases (auto-generated):
waterloo mining, silver king, liparite tufa, brown liparite, wall street, cross section, 6th level, sixth level, map 31, ore deposits, brown tufa, king mine, hanging wall, liparite breccia, middle vein
Document Status: UGLY