v0025-987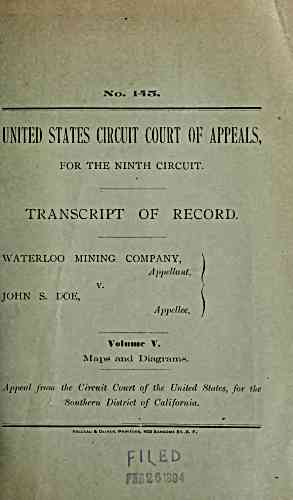 JVo. 1-Z&.
UNITED STATES CIRCUIT COURT OF APPEALS,
FOR THE NINTH CIRCUIT.
TRANSCRIPT OF RECORD.
WATERLOO MINING COMPANY,
Appellant,
JOHN S. DOE,
Appellee.
Volume V.
Maps and Diagrams.
Appeal from the Circuit Court of the United States, for the
Southern District of California.
Valleau 8t Oliver. Printers. 403 Sansome ST..S. F.
---
archive.org Volume Name: govuscourtsca9briefs0025
Volume: http://archive.org/stream/govuscourtsca9briefs0025
Document Link: http://archive.org/stream/govuscourtsca9briefs0025#page/n986/mode/1up
Top Keywords (auto-generated):
ft, examiner, color, chancery, ore, inch, ihe, cross, zone, veins, silver, scale, sc, ro, lode
Top Key Phrases (auto-generated):
silver king, se ction, ro inch, king lode., zuv tit., zoze wc, yxlt arid, ythcd zt, xotesi coior, xilu fcs, xcuu2bvnt soutaemv, wve voo, wqoufi sovm, wiaj cjti, waterloo mining
Document Status: UGLY