v0061-239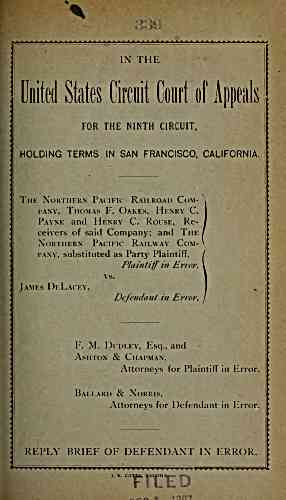 f ,
''***--
IX THE
llflited States Circuit Court of Appeals
FOR THE NINTH CIRCUIT,
HOLDING TERMS IN SAN FRANCISCO, CALIFORNIA.
Tjik Northern Pacific Railroad Com-
I'ANV, Thomas F. Oakes, Henry C.
Payne and Henry C. Rouse, Re-
ceiYcrs of said Company; and The
Northern Pacific Railvay Com-
I'ANY, substituted as Party Plaintiff,
Plaintiff in Error,
YS.
James DeLacey,
Defendant ifi Error.
Dcdley, Esq.. and
AsHTON & Chapman,
Attorneys for Plaintiff in Error.
Ballard & Norris,
Attorneys for Defendant in Error.
REPLY BRIEF OF DEFENDANT IN ERROR.
T T T ^
GATES. TACOMA,
---
archive.org Volume Name: govuscourtsca9briefs0061
Volume: http://archive.org/stream/govuscourtsca9briefs0061
Document Link: http://archive.org/stream/govuscourtsca9briefs0061#page/n238/mode/1up
Top Keywords (auto-generated):
sup, ct, rep, supra, supreme, land, honorable, 244, former, cite, review, railroad, questions, mandate, submitted
Top Key Phrases (auto-generated):
northern pacific, james delacey, aspen min., san francisco, railroad corporations, pacific railroad, oakes henry, land department, francisco california., definite route, ballard norris, xo uncertainty, views differing, vex atious., uiidley esq.,
Document Status: UGLY