v0109-633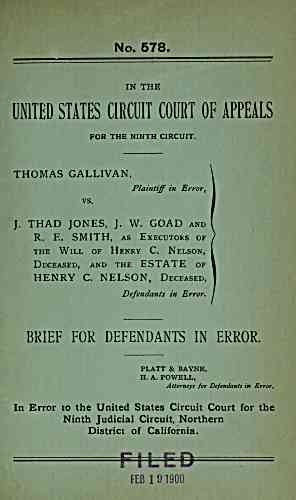 IN THE
UNITED STATES CIRCUIT COURT OF APPEALS
FOR THE NINTH CIRCUIT.
THOMAS GALLIVAN,
Plaintiff in Error )
VS.
THAD JONES, J. W. GOAD and

SMITH, as Executors of
the Will of Henry C. Nelson,
Deceased, and the ESTATE of
HENRY C. NELSON, Deceased,
Defendants in Error.
BRIEF FOR DEFENDANTS IN ERROR.
PLATT & BAYNE,
POWELL,
Attorneys for Defendants in Error.
In Error to the United States Circuit Court for the
Ninth Judicial Circuit, Northern
District of California.
HLCD
FEB 191900
---
archive.org Volume Name: govuscourtsca9briefs0109
Volume: http://archive.org/stream/govuscourtsca9briefs0109
Document Link: http://archive.org/stream/govuscourtsca9briefs0109#page/n632/mode/1up
Top Keywords (auto-generated):
executor, estate, section, 1510, executors, summons, presented, code, administrator, rejection, jurisdiction, claims, provided, decedent, 1498
Top Key Phrases (auto-generated):
section 1510, section 1498, nelson deceased, estate eo, eo nomine, section 145, federal courts, civil procedure, execu tor, claims presented, civil procedure., section 134, personally liable, obtain jurisdiction, es tate
Document Status: UGLY