v0129-755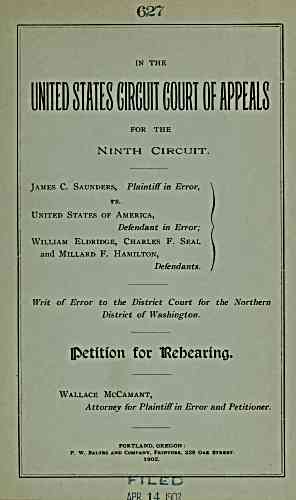 627
IN THE
i
o
FOR THE
Ninth Circuit
James C. Saunders, Plaintiff in Error,
vs.
United States of America,
Defendant in Error;
William Eldridge, Charles F. Seal
and Millard F. Hamilton,
Defendants.
Writ of Error to the District Court for the Northern
District of Washington.
petition for IRebearing.
Wallace McCamant,
Attorney for Plaintiff in Error and Petitioner.
PORTLAND, OREGON :
Baltbs and Company, Printers, 228 Oak 9trbet.

.
8 A-k-2 tmm- %tmMF
apr 14 m?.
---
archive.org Volume Name: govuscourtsca9briefs0129
Volume: http://archive.org/stream/govuscourtsca9briefs0129
Document Link: http://archive.org/stream/govuscourtsca9briefs0129#page/n754/mode/1up
Top Keywords (auto-generated):
collector, section, statutes, annum, repealed, repeal, fees, sections, thai, salary, 1890, sound, emoluments, district, tin
Top Key Phrases (auto-generated):
sections 2654, revised statutes, pugel sound, section 2670, ending june, dol lars, wrongfully rejected, sound collection, enti tled, collection district, bonded warehouses, william eldridge, thou sand, thai section, section 37,
Document Status: UGLY