v0130-189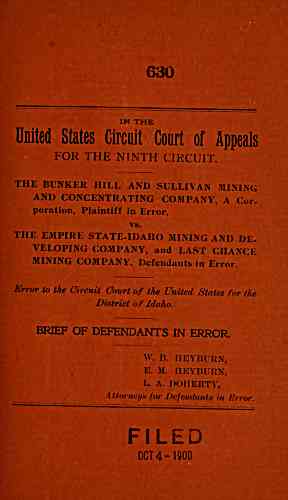 630
IN THE
United States Circuit Court of Appeals
FOR THE NINTH CIRCUIT.
THE BUNKER HILL AND SULLIVAN MINING
AND CONCENTRATING COMPANY, A Cor.
poration, Plaintiff in Error,
vs.
THE EMPIRE STATE-IDAHO MINING AND DE-
VELOPING COMPANY, and LAST CHANCE
MINING COMPANY, Defendants in Error.
Error to the Circuit Court of the United State* for the
District of Idaho.
BRIEF OF DEFENDANTS IN ERROR.
HEYBURN,

HEYBURN,

DOHERTY,
Attorneys for Defendants hi
FILED
OCT 4 -1900
---
archive.org Volume Name: govuscourtsca9briefs0130
Volume: http://archive.org/stream/govuscourtsca9briefs0130
Document Link: http://archive.org/stream/govuscourtsca9briefs0130#page/n188/mode/1up
Top Keywords (auto-generated):
chance, location, mining, stemwinder, vein, rights, claims, lines, end, right, patent, emma, application, lode, ledge
Top Key Phrases (auto-generated):
chance mining, stem winder, del monte, end lines, ore bodies, un der, tyler mining, stemwinder lode, stemwinder location, idaho mining, extra lateral, end lines., winder location, vein lying, valid location
Document Status: UGLY