v0130-241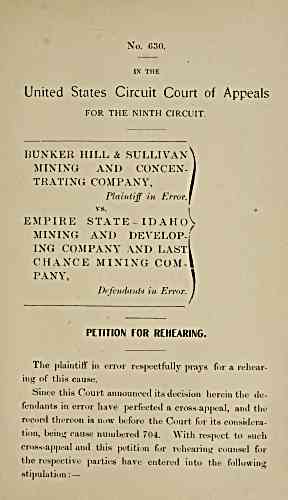 No. 630.
TX THE
United States Circuit Court of Appeals
FOR THE NINTH CIRCUIT.
BUNKER HILL & SULLIVAN
MINING AND CONCEN-
TRATING COMPANY,
Plaintiff in Error,
EMPIRE STATE - IDAHOV
MINING AND DEVELOP--'
ING COMPANY AND LAST
CHANCE MINING COM-1
PANY,
Defendants in Error.
PETITION FOR REHEARING.
The plaintiff in error respectfully prays for a rehear-
ing of this cause.
Since this Court announced its decision herein the de-
fendants in error have perfected a cross-appeal, and the
record thereon is now before the Court for its considera-
tion, being cause numbered 704. With respect to such
loss-appeal and this petition for rehearing counsel for
the respective parties have entered into the following
stipulation :
---
archive.org Volume Name: govuscourtsca9briefs0130
Volume: http://archive.org/stream/govuscourtsca9briefs0130
Document Link: http://archive.org/stream/govuscourtsca9briefs0130#page/n240/mode/1up
Top Keywords (auto-generated):
patent, chance, mining, application, land, adverse, location, conflict, surface, stemwinder, tyler, right, priority, office, idaho
Top Key Phrases (auto-generated):
bunker hill, land office, idaho mining, sullivan mining, stem winder, revised statutes, hill sullivan, chance mining, surface conflict, vertical planes, ore bodies, extralateral right, end lines, underground rights, triangular piece
Document Status: UGLY