v0130-261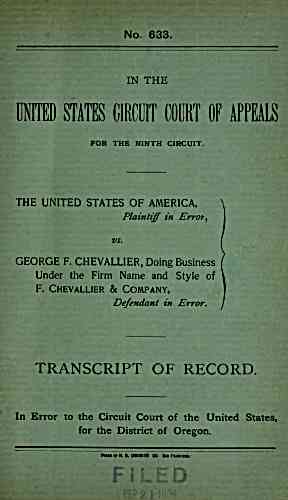 No. 633,
IN THE
1ITED STATES CIRCUIT COURT OF APPEALS
FOR THE NINTH CIRCUIT.
THE UNITED STATES OF AMERICA,
Plaintiff in Error,
vs.
GEORGE F. CHEVALLIER, Doing Business
Under the Firm Name and Style of
CHEVALLIER & COMPANY,
Defendant in Error.
TRANSCRIPT OF RECORD.
In Error to the Circuit Court of the United States,
for the District of Oregon.
Phm or H. t. CROCKER CO. 8*N FlUNCiioa
---
archive.org Volume Name: govuscourtsca9briefs0130
Volume: http://archive.org/stream/govuscourtsca9briefs0130
Document Link: http://archive.org/stream/govuscourtsca9briefs0130#page/n260/mode/1up
Top Keywords (auto-generated):
special, tax, district, statute, liquor, oregon, dealer, business, liable, denies, paid, force, retail, chevallier, portland
Top Key Phrases (auto-generated):
special tax, liquor dealer, retail liquor, became liable, san francisco, wholesale liquor, neg lected, liquor dealer., hitherto neg, oregon carry, dealer whereby, dealer denies, hitherto neglected, liable therefor, become liable
Document Status: UGLY