v0130-65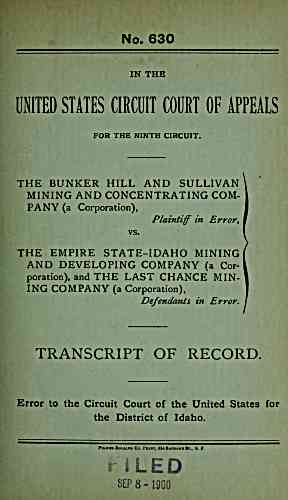 No. 630
IN THE
UNITED STATES CIRCUIT COURT OF APPEALS
FOR THE NINTH CIRCUIT.
THE BUNKER HILL AND SULLIVAN
MINING AND CONCENTRATING COM-
PANY (a Corporation),
Plaintiff in Error,
vs.
THE EMPIRE STATE-IDAHO MINING
AND DEVELOPING COMPANY (a Cor-
poration), and THE LAST CHANCE MIN-
ING COMPANY (a Corporation),
Defendants in Error.
TRANSCRIPT OF RECORD.
Error to the Circuit Court of the United States for
the District of Idaho.
PiLMiB-Roixim Co. Print, 424 Saksum* St., S. F.
1LED
SEP 8 -1900
---
archive.org Volume Name: govuscourtsca9briefs0130
Volume: http://archive.org/stream/govuscourtsca9briefs0130
Document Link: http://archive.org/stream/govuscourtsca9briefs0130#page/n64/mode/1up
Top Keywords (auto-generated):
mining, lode, idaho, stemwinder, chance, lines, hill, vein, bunker, empire, min, sullivan, corporation, emma, corner
Top Key Phrases (auto-generated):
bunker hill, chance mining, stemwinder lode, end lines, hill sullivan, idaho mining, idaho min., sullivan mining, lode mining, sullivan min., stem winder, pretended stemwinder, idaho northern, planes drawn, emma lode
Document Status: UGLY