v0141-249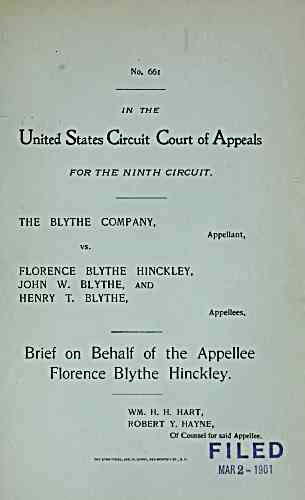 No. 661
IN THE
United States Circuit Court of Appeals
FOR THE NINTH CIRCUIT,
THE BLYTHE COMPANY,
Appellant,
vs.
FLORENCE BLYTHE HINCKLEY,
JOHN W. BLYTHE, AND
HENRY T. BLYTHE,
Appellees.
Brief on Behalf of the Appellee
Florence Blythe Hinckley.
WM. H. H. HART,
ROBERT Y. HAYNE,
Of Counsel for said Appellee.
FILED
MAR2-19Q1
rwi star rnc$s, jas. m. iarny, 499 montg-v t., s. r.
---
archive.org Volume Name: govuscourtsca9briefs0141
Volume: http://archive.org/stream/govuscourtsca9briefs0141
Document Link: http://archive.org/stream/govuscourtsca9briefs0141#page/n248/mode/1up
Top Keywords (auto-generated):
blythe, bill, hinckley, cross, vol, pro, confesso, florence, property, petition, review, finality, decrees, relief, jurisdiction
Top Key Phrases (auto-generated):
cross bill, pro confesso, florence blythe, blythe hinckley, cross bills, san diego, supplemental bill, blythe block, properly dismissed., hinck ley, setting aside, op decrees., finality op, bills properly, san francisco
Document Status: UGLY