v0145-643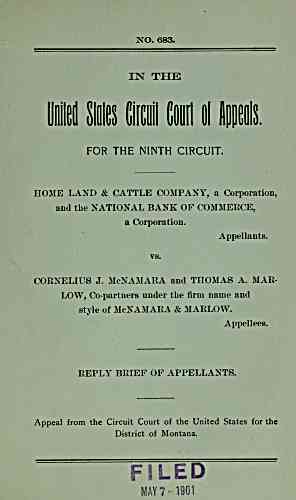 NO. 683.
IN THE
ill Ik Circuit dour
FOR THE NINTH CIRCUIT.
HOME LAND & CATTLE COMPANY, a Corporation,
and the NATIONAL BANK OF COMMERCE,
a Corporation.
Appellants.
vs.
CORNELIUS J. McNAMARA and THOMAS A. MAR-
LOW, Co-partners under the firm name and
style of McNAMARA & MARLOW.
Appellees.
REPLY BRIEF OF APPELLANTS.
Appeal from the Circuit Court of the United States for the
District of Montana.
ILED
MAY7- 1901
---
archive.org Volume Name: govuscourtsca9briefs0145
Volume: http://archive.org/stream/govuscourtsca9briefs0145
Document Link: http://archive.org/stream/govuscourtsca9briefs0145#page/n642/mode/1up
Top Keywords (auto-generated):
contract, cattle, mcnamara, authorities, respondents, payment, mersey, lord, longer, land, intention, home, contention, support, right
Top Key Phrases (auto-generated):
home land, respond ents, national bank, mcnamara ct, lord coleridge, longer bound, land cattle, continue performance, chief justice, ap pellants, wrongful repudiation, word rescis, ven dor, various opinions, tin ess
Document Status: UGLY