v0173-369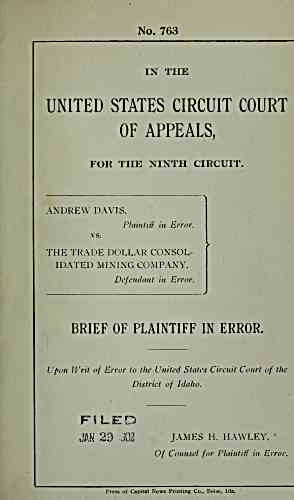 No, 763
IN THE
UNITED STATES CIRCUIT COURT
OF APPEALS,
FOR THE XIISTH CIRCUIT.
ANDREW DAVIS,
Plaintiff in Error.
vs.
THE TRADE DOLLAR CONSOL-
IDATED TUNING COMPANY,
Defendant in Error.
BRIEF OF PLAINTIFF IN ERROR.
Upon IVrit of Error to the United States Cirenit Conrt of the
District of Idaho.
AN 29 302
JAMES H. HAWLEY,
Of Counsel for Plaintiff in Error,
Press of Capital News Printing Co., Boise, Ida.
---
archive.org Volume Name: govuscourtsca9briefs0173
Volume: http://archive.org/stream/govuscourtsca9briefs0173
Document Link: http://archive.org/stream/govuscourtsca9briefs0173#page/n368/mode/1up
Top Keywords (auto-generated):
servant, holes, negligence, master, missed, shift, work, tunnel, trans, injury, hole, foreman, duty, fellow, rep
Top Key Phrases (auto-generated):
fellow servant, missed holes, missed holes., missed hole, ohio st., missed fire, chief officer, vice principal, usual custom, retiring shift, breast hole, alter ego, xorcross 121, whose negligence, trans pag
Document Status: UGLY