v0178-625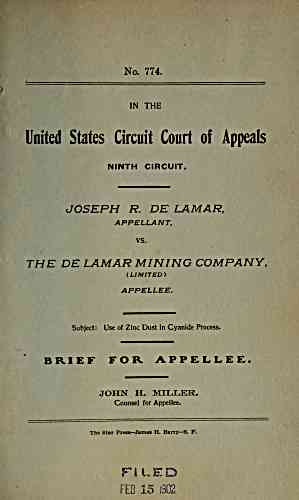 No. 774.
IN THE
United States Circuit Court of Appeals
NINTH CIRCUIT.
JOSEPH R. DE LAMAR,
APPELLANT,
VS.
THE DE LAMAR MINING COMPANY,
( LIMITED )
APPELLEE.
Subject: Use of Zinc Dust in Cyanide Process.
BRIEF FOR APPELLEE.
JOHN H. MILLER,
Counsel for Appellee.
The Star Press James H. Barry S. F.
F 1 1. E D
FEB 15 302
---
archive.org Volume Name: govuscourtsca9briefs0178
Volume: http://archive.org/stream/govuscourtsca9briefs0178
Document Link: http://archive.org/stream/govuscourtsca9briefs0178#page/n624/mode/1up
Top Keywords (auto-generated):
zinc, dust, solution, gold, cyanide, patent, metals, oxide, process, kk, waldstein, precious, surface, form, precipitation
Top Key Phrases (auto-generated):
zinc dust, precious metals, zinc oxide, metallic zinc, waldstein patent, cyanide solution, zinc dust., finely divided, cyanide solutions, waldstein process, zinc fume, greater surface, exact quantity, divided zinc, filter press
Document Status: UGLY