v0214-423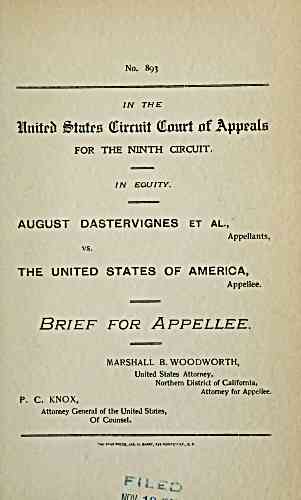 No. 893
IN THE
Inttri ^UUb (Hxxtmt (Hmtt of Appeals
FOR THE NINTH CIRCUIT.
IN EQUITY.
AUGUST DASTERVIGNES ET AL.,
Appellants,
vs.
THE UNITED STATES OF AMERICA,
Appellee.
Brief for Appellee.
MARSHALL B. WOODWORTH,
United States Attorney,
Northern District of California,
Attorney for Appellee.
KNOX,
Attorney General of tlie United States,
Of Counsel.
THii STAR PRESS, JA3. H. BARRY, 429 MONTG'Y ST. ,S. F.
Mni/ -ir.
---
archive.org Volume Name: govuscourtsca9briefs0214
Volume: http://archive.org/stream/govuscourtsca9briefs0214
Document Link: http://archive.org/stream/govuscourtsca9briefs0214#page/n422/mode/1up
Top Keywords (auto-generated):
secretary, rules, interior, regulations, forest, congress, power, sheep, reserves, reservations, authority, bill, rep, objects, promulgated
Top Key Phrases (auto-generated):
forest reserves, forest reservations, vegetation grasses, injunction pendente, grasses undergrowth, forest reserve, undergrowth young, stanislaus forest, reservations namely, growing trees, forests thereon, secre tary, regula tions, pendente lite, approved june
Document Status: UGLY