v0214-7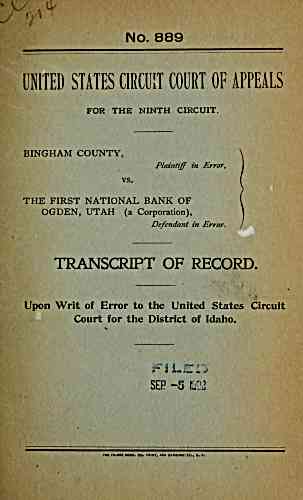 No. 889
UNITED STATES CIRCUIT COURT OF APPEALS
FOR THE NINTH CIRCUIT.
BINGHAM COUNTY,
Plaintiff in Error,
VS.
THE FIRST NATIONAL BANK OF
OGDEN, UTAH (a Corporation),
Defendant in Error. j
TRANSCRIPT OF RECORD.
Upon Writ of Error to the United States Circuit
Court for the District of Idaho.
SER -5 IS02
THE FILMER BROS. CO. PRINT, 414 SANIOUE ST., . F.
---
archive.org Volume Name: govuscourtsca9briefs0214
Volume: http://archive.org/stream/govuscourtsca9briefs0214
Document Link: http://archive.org/stream/govuscourtsca9briefs0214#page/n6/mode/1up
Top Keywords (auto-generated):
county, warrants, gen, bingham, bank, idaho, utah, 96, national, bunting, district, 95, ogden, bill, payment
Top Key Phrases (auto-generated):
bingham county, national bank, idaho southern, og den, ogden utah., bingham county., den utah, ogden utah, war rants, county warrants, january 20th, overruling demurrer, january 12th, 20th 1896., na tional
Document Status: UGLY