v0332-223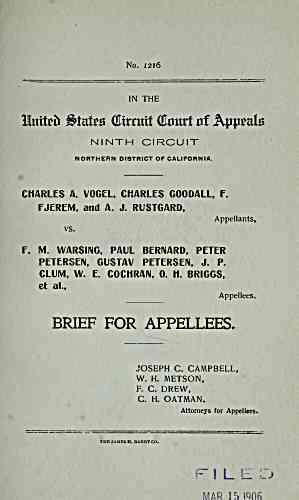 No. 1216
IN THE
Imtb BMtB Oltrrmt Cnurt 0f Appala
NINTH CIRCUIT
NORTHERN DISTRICT OF CALIFORN lA.
CHARLES A. VOGEL, CHARLES GOODALL, F.
EJEREM, and A. J. RDSTGARD,
Appellants,
VS.
WARSIWG, PAUL BERNARD, PETER
PETERSEN, GUSTAV PETERSEN, J. P.
CLIJIV1, W. E. COCHRAN, 0. H. BRIGGS,
et aL,
Appellees.
BRIEF FOR APPELLEES.
JOSEPH C. CAMPBELL,
METSON,

DREW,

OATMAN,
Attorneys for Appellees.
THE JAMES H. BARHY CO.
FILE O
MAR ISiqflfi
---
archive.org Volume Name: govuscourtsca9briefs0332
Volume: http://archive.org/stream/govuscourtsca9briefs0332
Document Link: http://archive.org/stream/govuscourtsca9briefs0332#page/n222/mode/1up
Top Keywords (auto-generated):
location, work, injunction, affidavits, panorama, petersen, affidavit, mining, ground, happy, discovery, peter, claims, 1900, assessment
Top Key Phrases (auto-generated):
assessment work, peter petersen, basin bench, gustav petersen, permanent monument, morning star, irreparable injury, injunction pendente, paul bernard, cape nome, affi davits, pendente lite., panorama location, del monte, bourbon creek
Document Status: UGLY