v0347-521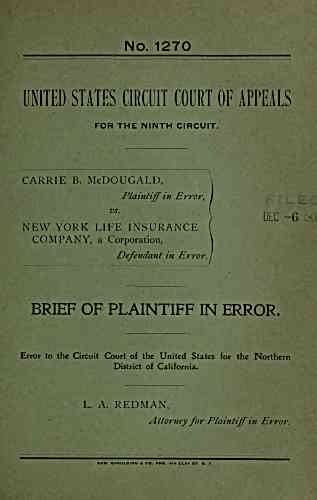 No. 1270
UNITED STATES CIRCOIT COURT OF APPEALS
FOR THE NINTH CIRCUIT.
CARRIE B. McDOUGALD,
Plaintiff in Error,
vs.
NEW YORK LIFE INSURANCE
COMPANY, a Corporation,
Defendant in Error.
DEC -6
BRIEF OF PLAINTIFF IN ERROR,
Error to the Circuit Court of the United States for the Northern
District of California.
REDMAN,
A tto rney for Pla intiff in Erro r.
GEO. SPAULOING 4. CO. PRS. 41.4 CLAY ST. S. F.
---
archive.org Volume Name: govuscourtsca9briefs0347
Volume: http://archive.org/stream/govuscourtsca9briefs0347
Document Link: http://archive.org/stream/govuscourtsca9briefs0347#page/n520/mode/1up
Top Keywords (auto-generated):
policy, premium, insurance, amendment, life, york, 1897, 1892, term, 30th, statute, ins, june, contract, 1877
Top Key Phrases (auto-generated):
june 30th, term insurance, life ins., xew york, insurance contract, 30th 1898, 30th 1897, thereafter issued, premium became, pro visions, policy sued, policies issued, october 4th, non payment, mutual life
Document Status: UGLY