v0371-369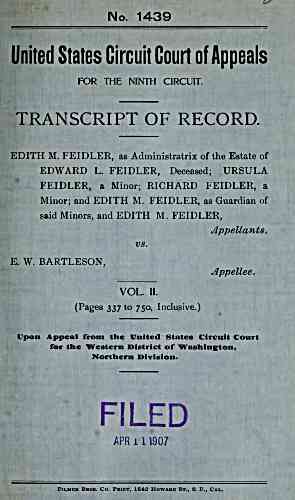 No. 1439
United States Circuit Court of Appeals
FOR THE NINTH CIRCUIT.
TRANSCRIPT OF RECORD.
EDITH M. FEIDLER, as Administratrix of the Estate of
EDWARD L. FEIDLER, Deceased; URSULA
FEIDLER, a Minor; RICHARD FEIDLER, a
Minor; and EDITH M. FEIDLER, as Guardian of
said Minors, and EDITH M. FEIDLER,
Appellants,
vs.
BARTLESON,
Appellee.
VOL. 11.
(Pages 2)7 to 750, Inclusive.)
upon Appeal from tbe ITnited States Circuit Court
for tlie 'Western District of 'WasbingtoUf
Northern DiYision.
FILED
APR i 1 1907
FiLMER Bros. Co. Print, 1642 Howard St., S. F., Cai..
---
archive.org Volume Name: govuscourtsca9briefs0371
Volume: http://archive.org/stream/govuscourtsca9briefs0371
Document Link: http://archive.org/stream/govuscourtsca9briefs0371#page/n368/mode/1up
Top Keywords (auto-generated):
feidler, edith, sweeney, nome, snoddy, ed, business, estate, bartleson, trading, seattle, alaska, progresso, collected, administrator
Top Key Phrases (auto-generated):
progresso trading, bo sweeney., feidler deceased, western district, washington northern, nome alaska, eben smith, feid ler, ap praised, national bank, chancery western, ursula feidler, bo sweeney, deceased ursula, richard feidler
Document Status: UGLY