v0396-638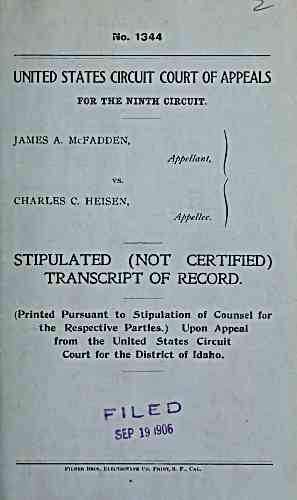 2^
Ho. 1344
UNITED STATES CIRCUIT COURT OF APPEALS
FOR THE NINTH CIRCUIT.
JAMES A. McFADDEN,
-Appellant,
vs.
CHARLES C. HEISEN,
Appellee.
STIPULATED (NOT CERTIFIED)
TRANSCRIPT OF RECORD.
(Printed Pursuant to Stipulation of Counsel for
the Respective Parties.) Upon Appeal
from the United States Circuit
Court for the District of Idaho.
FILED
SIP 19 l906
Kilmer Bros. Electrotype Co. Print, S. F., Cal.
---
archive.org Volume Name: govuscourtsca9briefs0396
Volume: http://archive.org/stream/govuscourtsca9briefs0396
Document Link: http://archive.org/stream/govuscourtsca9briefs0396#page/n637/mode/1up
Top Keywords (auto-generated):
mcfadden, heisen, james, charles, thayer, idaho, wilkins, mining, paid, property, trust, mortgages, mill, county, complainants
Top Key Phrases (auto-generated):
thayer wilkins, custer county, yankee fork, trust deeds, county idaho, challis idaho, mill site, quartz mining, vein lode, mc fadden, heisen chicago, fork mining, trust deed, idaho southern, american trust
Document Status: UGLY