v0416-7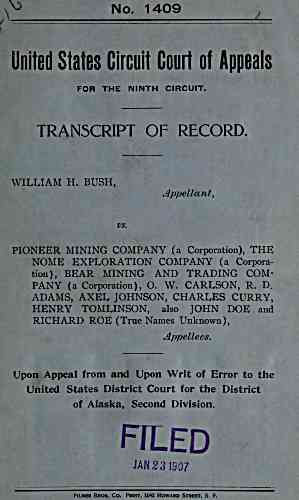 x^ No. 1409
United States Circuit Court of Appeals
FOR THE NINTH CIRCUIT.
TRANSCRIPT OF RECORD.
WILLIAM H. BUSH,
Appellant,
vs.
PIONEER MINING COMPANY (a Corporation), THE
NOME EXPLORATION COMPANY (a Corpora-
tion), BEAR MINING AND TRADING COM-
PANY (a Corporation), O. W. CARLSON, R. D.
ADAMS, AXEL JOHNSON, CHARLES CURRY,
HENRY TOMLINSON, also JOHN DOE and
RICHARD ROE (True Names Unknown),
Appellees.
Upon Appeal from and Upon Writ of Error to the
United States District Court for the District
of Alaska, Second Division.
FILED
JAN 23 1307
FiLMBR Bros. Co. print. 1642 Howard Street, S. F.
---
archive.org Volume Name: govuscourtsca9briefs0416
Volume: http://archive.org/stream/govuscourtsca9briefs0416
Document Link: http://archive.org/stream/govuscourtsca9briefs0416#page/n6/mode/1up
Top Keywords (auto-generated):
bear, district, mining, cub, alaska, nome, discovery, below, creek, stakes, bush, pioneer, curry, william, stake
Top Key Phrases (auto-generated):
bear cub, pioneer mining, below discovery, dry creek, cape nome, placer mining, charles curry, axel olsen, nome exploration, notary public, john doe, bear mining, adams axel, notarial seal, alaska ss.,
Document Status: UGLY