v0429-7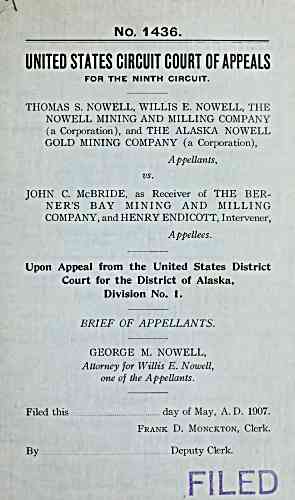 No. 1436.
UNITED STATES CIRCUIT COURT OF APPEALS
FOR THE NINTH CIRCUIT.
THOMAS S. NOWELL, WILLIS E. NOWELL, THE
NOWELL MINING AND MILLING COMPANY
(a Corporation), and THE ALASKA NOWELL
GOLD MINING COMPANY (a Corporation),
Appellants,
vs.
JOHN C. McBRIDE, as Receiver of THE BER-
NER'S BAY MINING AND MILLING
COMPANY, and HENRY ENDICOTT, Intervener,
Appellees.
Upon Appeal from the United States District
Court for the District of Alaska,
Division No. 1.
BRIEF OF APPELLANTS.
GEORGE M. NOWELL,
Attorney for Willis E. Nowell,
one of the Appellants.
Filed this day of May, A. D. 1907.
Frank D. Monckton, Clerk.
By Deputy Clerk.
FILED
---
archive.org Volume Name: govuscourtsca9briefs0429
Volume: http://archive.org/stream/govuscourtsca9briefs0429
Document Link: http://archive.org/stream/govuscourtsca9briefs0429#page/n6/mode/1up
Top Keywords (auto-generated):
nowell, mining, milling, bay, thomas, claims, stock, corporation, fraud, stockholders, equity, patent, johnson, title, bemers
Top Key Phrases (auto-generated):
mining milling, bay mining, bemers bay, mining claims, northern light, nowell mining, capital stock, nowell gold, gold mining, berners bay, alaska nowell, specific performance, henry endicott, stockholders meeting, wholly unsupported
Document Status: UGLY