v0431-553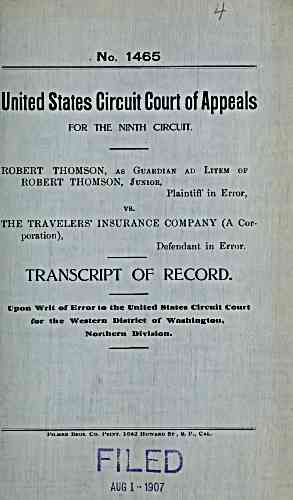 No. 1465
United States Circuit Court of Appeals
FOR THE NINTH CIRCUIT.
ROBERT THOMSON, as Guardian ad Litem of
ROBERT THOMSON, Junior,
Plaintiff in Error,
vs.
THE TRAVELERS' INSURANCE COMPANY (A Cor-
poration),
Defendant in Error.
TRANSCRIPT OF RECORD.
Upon lrit of Error to tbe United States Circuit Court
for tbe Western District of 'Wasliin8:tou,
Northern DiTision.
FiLMER Bros. Co. Print, 1642 Howard St , S. V., Cal.
i
ri
AUG 1 - 1907
---
archive.org Volume Name: govuscourtsca9briefs0431
Volume: http://archive.org/stream/govuscourtsca9briefs0431
Document Link: http://archive.org/stream/govuscourtsca9briefs0431#page/n552/mode/1up
Top Keywords (auto-generated):
thomson, insurance, robert, travelers, washington, assured, western, corporation, mill, district, ad, issaquah, litem, guardian, policy
Top Key Phrases (auto-generated):
robert thomson, travelers insurance, ad litem, guardian ad, thomson junior, western district, issaquah mill, washington northern, reeves ayres, western dist., kerr mccord, king county, cir cuit, northern di, moore dep.,
Document Status: UGLY