v0434-381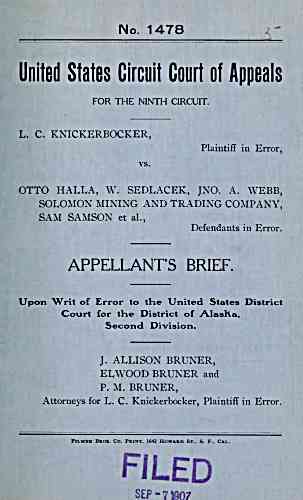 No. 1478
United States Circuit Court of Appeals
FOR THE NINTH CIRCUIT.
KNICKERBOCKER,
Plaintiff in Error,
vs.
OTTO HALLA, W. SEDLACEK, JXO. A. WEBB,
SOLOMON MINING AND TRADING COMPANY,
SAM SAMSON et ah,
Defendants in Error.
APPELLANT'S BRIEF.
Upon "Writ of Error to tKe United States District
Coart for tKe District of A.lasKa,
Second Division.
ALLISON BRUNER,
ELWOOD BRUNER and
BRUNER,
Attorneys for L. C. Knickerbocker, Plaintiff in Error.
FiLMER Bros. Co. Print. 1642 Howard St., S. F.. Cal.
FILED
SEP - 7 1907
---
archive.org Volume Name: govuscourtsca9briefs0434
Volume: http://archive.org/stream/govuscourtsca9briefs0434
Document Link: http://archive.org/stream/govuscourtsca9briefs0434#page/n380/mode/1up
Top Keywords (auto-generated):
trans, webb, forfeiture, work, halla, erred, labor, tract, 1902, interest, ground, bruner, persons, knickerbocker, property
Top Key Phrases (auto-generated):
halla tract, assessment work, annual labor, stephen jasper, revised statutes, testi mony, section 2324, placer mining, november 1902, knicker bocker, sixteenth interest, sam samson, recording district, rec ord, proportionate share
Document Status: UGLY