v0447-7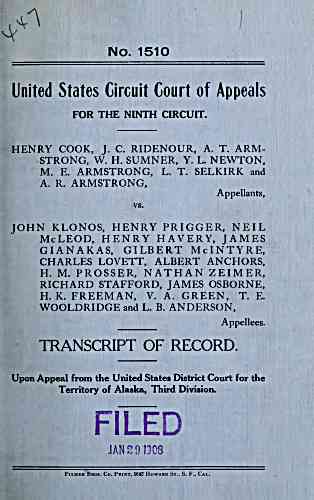 ^^"^
No. 1510
United States Circuit Court of Appeals
FOR THE NINTH CIRCUIT.
HENRY COOK, J. C. RIDENOUR, A. T. ARM-
STRONG, W. H. SUMNER, Y. L. NEWTON,
ARMSTRONG, L. T. SELKIRK and

ARMSTRONG,
Appellants,
vs.
JOHN KLONOS, HENRY PRIGGER, NEIL
McLEOD, HENRY HAVERY, JAMES
GIANAKAS, GILBERT McINTYRE,
CHARLES LOVETT, ALBERT ANCHORS,
PROSSER, NATHAN ZEIMER,
RICHARD STAFFORD, JAMES OSBORNE,
FREEMAN, V. A. GREEN, T. E.
WOOLDRIDGE and L. B. ANDERSON,
Appellees.
TRANSCRIPT OF RECORD.
Upon Appeal from the United States District Court for the
Territory of Alaska, Third Division.
FILED
JAN 2 9 1908
FiLMER Bros. Co. Print, 1642 Howard St., S. F.. Cal.
---
archive.org Volume Name: govuscourtsca9briefs0447
Volume: http://archive.org/stream/govuscourtsca9briefs0447
Document Link: http://archive.org/stream/govuscourtsca9briefs0447#page/n6/mode/1up
Top Keywords (auto-generated):
stake, henry, dome, mcginn, cook, klonos, ground, john, ridenour, location, stevens, cousby, alaska, mining, creek
Top Key Phrases (auto-generated):
henry cook, john klonos, thence 660, dome creek, placer mining, right limit, below discovery, march 1905, initial stake, allegation contained, tier right, mcginn sullivan, james gianakas, albert anchors, charles lovett
Document Status: UGLY