v0449-547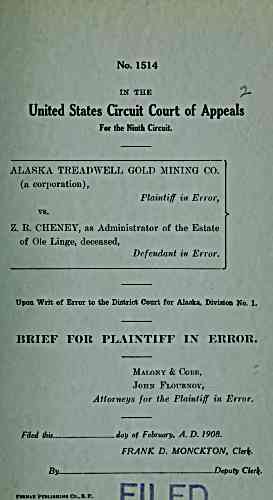 No. 1514
IN THE
%
United States Circuit Court of Appeals
For the Ninth Circuit.
ALASKA TREADWELL GOLD MINING CO.
(a corporation),
Plaintiff in Error,
vs.
CHENEY, as Administrator of the Estate
of Ole Linge, deceased.
Defendant in Error.
Upon Writ of Error to the District Court for Alaska, Division No. 1.
BRIEF FOR PLAINTIFF IX ERROR.
Malony & Cobb,
John Floubnoy,
Attorneys for the Plaintiff in Error.
Filed this..
da) of February;. A. D. 1908.
FRANK D. MONCKTON, Clerk.
B}f.
Deputyf Clerk.
PwKSkv PnBLiaHura Co., S. F.
FM rn
---
archive.org Volume Name: govuscourtsca9briefs0449
Volume: http://archive.org/stream/govuscourtsca9briefs0449
Document Link: http://archive.org/stream/govuscourtsca9briefs0449#page/n546/mode/1up
Top Keywords (auto-generated):
wheel, sheave, piece, broken, repaired, flange, break, cable, steel, cast, iron, accident, safe, rec, inches
Top Key Phrases (auto-generated):
sheave wheel, cast steel, cast iron, piece broken, reasonably safe, sheet steel, sheave wheels, treadwell mine, steel wheel, rivet holes, ordinary care, broken piece, hoisting machinery, cast iron., negli gence
Document Status: UGLY