v0450-339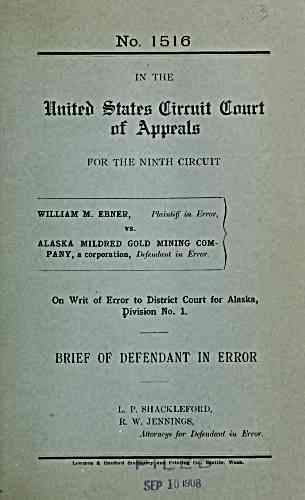 No. 1516
IN THE
lnxtth ^MtB Qltrrmt (Homt
of Appeals
FOR THE NINTH CIRCUIT
WILLIAM M. EBNER, Plaintiff in Error,
vs.
ALASKA MILDRED GOLD MINING COM- f
PANY, a corporation, Defendant in Error.
On Writ of Error to District Court for Alaska,
pivision No. 1.
BRIEF OF DEFENDANT IN ERROR
SIIACKLEFORD.

JENNINGS,
Attorneyfi for Defendant in Error.
Lowman & Hanford Stailo'jeryj.and Printing Co.. Seattle. Wash.
---
archive.org Volume Name: govuscourtsca9briefs0450
Volume: http://archive.org/stream/govuscourtsca9briefs0450
Document Link: http://archive.org/stream/govuscourtsca9briefs0450#page/n338/mode/1up
Top Keywords (auto-generated):
ebner, salary, directors, corporation, laws, duties, president, stockholders, alaska, stock, meetings, wilson, services, meeting, lovett
Top Key Phrases (auto-generated):
alaska mildred, gold mining, 230 ., windham bay, usually incumbent, services outside, rec ord, pj ., mildred gold, entire stock, ebner performed, duties usually, dinners entertainment, cor poration, corporate property
Document Status: UGLY