v0450-379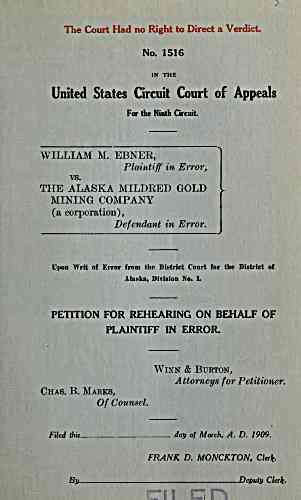 The Court Had no Right to Direct a Verdict
No. 1516
IN THE
United States Circuit Court of Appeals
For the Ninth Circuit.
WILLIAM M. EBNER,
Plaintiff in Error,
vs.
THE ALASKA MILDRED GOLD
MINING COMPANY
(a corporation),
Defendant in Error.
Upon Writ of Error from the District Court for the District of
Alaska, Division No. 1.
PETITION FOR REHEARING ON BEHALF OF
PLAINTIFF IN ERROR.
Winn & Burton,
Attorneys for Petitioner.
Chas. B. Marks,
Of Counsel.
Filed this da}} of March, A. D. 1909.
FRANK D. MONCKTON. Clerk.
Bj) Beput) Clerk.
---
archive.org Volume Name: govuscourtsca9briefs0450
Volume: http://archive.org/stream/govuscourtsca9briefs0450
Document Link: http://archive.org/stream/govuscourtsca9briefs0450#page/n378/mode/1up
Top Keywords (auto-generated):
services, manager, implied, contract, corporation, compensation, rendered, duties, resolution, ebner, work, president, directors, paid, receive
Top Key Phrases (auto-generated):
implied contract, vice president, implied promise, valuable services, evi dence, cir cumstances, adopted fixing, winn burton, travelling expenses, services rendered, services gratuitously, serv ices, receive compensation, presi dent, personally performed
Document Status: UGLY