v0450-573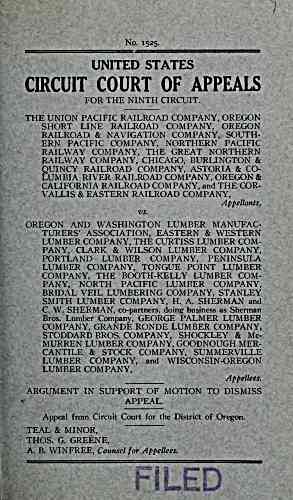 No. 1525.
UNITED STATES
CIRCUIT COURT OF APPEALS
FOR THE NINTH CIRCUIT.
THE UNION PACIFIC RAILROAD COMPANY, OREGON
SHORT LINE RAILROAD COMPANY, OREGON
RAILROAD & NAVIGATION COMPANY, SOUTH-
ERN PACIFIC COMPANY, NORTHERN PACIFIC
RAILWAY COMPANY, THE GREAT NORTHERN
RAILWAY COMPANY, CHICAGO, BURLINGTON &
QUINCY RAILROAD COMPANY, ASTORIA & CO-
LUMBIA RIVER RAILROAD COMPANY, OREGON &
CALIFORNIA RAILROAD COMPANY, and THE COR-
VALLIS & EASTERN RAILROAD COMPANY,
Appellants,
z/s.
OREGON AND WASHINGTON LUMBER MANUFAC-
TURERS' ASSOCIATION, EASTERN & WESTERN
LUMBER COMPANY, THE CURTISS LUMBER COM-
PANY, CLARK & WILSON LUMBER COMPANY,
PORTLAND LUMBER COMPANY, PENINSULA
LUMBER COMPANY, TONGUE POINT LUMBER
COMPANY, THE BOOTH-KELLY LUMBER COM-
PANY, NORTH PACIFIC LUMBER COMPANY,
BRIDAL VEIL LUMBERING COMPANY, STANLEY
SMITH LUMBER COMPANY, H. A. SHERMAN and
SHERMAN, co-partners, doing business as Sherman
Bros. Lumber Company, GEORGE PALMER LUMBER
COMPANY, GRANDE RONDE LUMBER COMPANY,
STODDARD BROS. COMPANY, SHOCKLEY & Mc-
MURREN LUMBER COMPANY, GOODNOUGH MER-
CANTILE & STOCK COMPANY, SUMMERVILLE
LUMBER COMPANY, and WISCONSIN-OREGON
LUMBER COMPANY,
Appellees.
ARGUMENT IN SUPPORT OF MOTION TO DISMISS
APPEAL.
Appeal from Circuit Court for the District of Oregon.
TEAL & MINOR,
THOS. G. GREENE,
WINFREE, Counsel for Appellees.
---
archive.org Volume Name: govuscourtsca9briefs0450
Volume: http://archive.org/stream/govuscourtsca9briefs0450
Document Link: http://archive.org/stream/govuscourtsca9briefs0450#page/n572/mode/1up
Top Keywords (auto-generated):
jurisdiction, lumber, railroad, supreme, federal, appearance, oregon, courts, pacific, trans, questions, district, merits, consideration, special
Top Key Phrases (auto-generated):
special appearance, washington lumber, union pacific, teal minor, roff 141, pacific railway, pacific railroad, northern pacific, district courts, appearance solely, ap peal, turers association, roff supra, river railroad, quincy railroad
Document Status: UGLY