v0450-585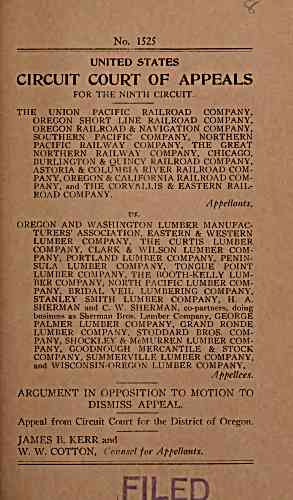 No. H25
UNITED STATES
CIRCUIT COURT OF APPEALS
FOR THE NINTH CIRCUIT.
THE UNION PACIFIC RAILROAD COMPANY,
OREGON SHORT LINE RAILROAD COMPANY,
OREGON RAILROAD & NAVIGATION COMPANY,
SOUTHERN PACIFIC COMPANY. NORTHERN
PACIFIC RAILWAY COMPANY, THE GREAT
NORTHERN RAILWAY COMPANY, CHICAGO,
RURLINGTON & OUINCY RAILROAD COMPANY,
ASTORIA & COLUMBIA RIVER RAILROAD COM-
PANY, OREGON & CALIFORNIA RAILROAD COM-
PANY, and THE CORVALLTS & EASTERN RAIL-
ROAD COMPANY,
Appellants,
Z'S.
OREGON AND WASHINGTON LUMBER MANUFAC-
TURERS' ASSOCIATION, EASTERN & WESTERN
LUMBER COMPANY, THE CURTIS LUMBER
COMPANY, CLARK & WILSON LUMBER COM-
PANY, PORTLAND LUMBER COMPANY, PENIN-
SULA LUMBER COMPANY, TONGUE POINT
LUMBER COMPANY, THE BOOTH-KELLY LUM-
BER COMPANY, NORTH PACIFIC LUMBER COM-
PANY, BRIDAL VEIL LUMBERING COMPANY,
STANLEY SMITH LUMBER COMPANY, H. A.
SHERMAN and C. W. SHERMAN, co-partners, doing
business as Sherman Bros. Lumber Company, GEORGE
PALMER LUMBER COMPANY, GRAND RONDE
LUMBER COMPANY, STODDARD BROS. COM-
PANY, SHOCKI,EY & McMURREN LUMBER COM-
PANY, GOODNOUGH MERCANTILE & STOCK
COMPANY, SUMMERVILLE LUMBER COMPANY,
and WISCONSIN-OREGON LUMBER COMPANY,
Appellees.
ARGUMENT IN OPPOSITION TO MOTION TO
DISMISS APPEAL.
Appeal from Circuit Court for the District of Oregon.
JAMES B. KERR and
COTTON, Counsel for Appellants.
FILED
---
archive.org Volume Name: govuscourtsca9briefs0450
Volume: http://archive.org/stream/govuscourtsca9briefs0450
Document Link: http://archive.org/stream/govuscourtsca9briefs0450#page/n584/mode/1up
Top Keywords (auto-generated):
jurisdiction, lumber, review, supreme, section, railroad, questions, injunction, pany, oregon, 1891, right, pacific, orders, merits
Top Key Phrases (auto-generated):
washington lumber, union pacific, regulate commerce, pacific railroad, jahn 155, wolfeborough savings, wisconsin oregon, wilson lumber, whose jurisdiction, western lumber, vio late, veil lumbering, un questionable, turers association, tri bunal
Document Status: UGLY