v0450-693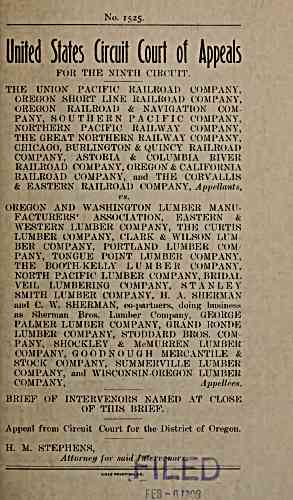 No. 1525.
Iloited Ms M (oort of Ippeab
FOR THE NINTH CIRCUIT.
THE UNION PACIFIC RAILROAD COMPANY,
OREGON SHORT LINE RAILROAD COMPANY,
OREGON RAILROAD & NAVIGATION COM-
PANY, SOUTHERN PACIFIC COMPANY,
NORTHERN PACIFIC RAILWAY COMPANY,
THE GREAT NORTHERN RAILWAY COMPANY,
CHICAGO, BURLINGTON & QUINCY RAILROAD
COMPANY, ASTORIA & COLUMBIA RIVER
RAILROAD COMPANY, OREGON & CALIFORNIA
RAILROAD COMPANY, and THE CORVALLIS
& EASTERN RAILROAD COMPANY, AppeMants,
vs.
OREGON AND WASHINGTON LUMBER MANU-
FACTURERS' ASSOCIATION, EASTERN &
WESTERN LUMBER COMPANY, THE CURTIS
LUMBER COMPANY, CLARK & WILSON LUM-
BER COMPANY, PORTLAND LUMBER COM--
PANY, TONGUE POINT LUMBER COMPANY,
THE BOOTH-KELLY LUMBER COMPANY,
NORTH PACIFIC LUMBER COMPANY, BRIDAL
VEIL LUMBERING COMPANY, STANLEY
SMITH LUMBER COMPANY, H. A. SHERMAN
and C. W. SHERMAN, co-i)artiiers, doing bnsiuess
as Sherman Bros. Lumber Company, GEORGE
PALMER LUMBER COMPANY, GRAND RONDE
LUMBER COMPANY, STODDARD BROS. COM-
JANY, SHOCKLEY & McMURREN LUMBER
COMPANY, GOODNOUGH MERCANTILE &
STOCK COMPANY, SUMMERVILLE LUMBER
COMPANY, and WISCONSIN-OREGON LUMBER
COMPANY, Appellees.
BRIEF OF INTERVENORS NAMED AT CLOSE
OF THIS BRIEF.
Appeal from Circuit Court for the District of Oregon.
STEPHENS,
Attorney for said'JWtevQnor
COLff PRINTIMKO
., a f-iq
---
archive.org Volume Name: govuscourtsca9briefs0450
Volume: http://archive.org/stream/govuscourtsca9briefs0450
Document Link: http://archive.org/stream/govuscourtsca9briefs0450#page/n692/mode/1up
Top Keywords (auto-generated):
lumber, rates, intervenors, interstate, railroad, products, oregon, forest, relief, jurisdiction, unreasonable, sherman, pacific, federal, commerce
Top Key Phrases (auto-generated):
forest products, interstate shipments, interstate commerce, injunctive relief, wisconsin oregon, washington lumber, unreasonably low, unreasonable rates, union pacific, summerville lumber, similarly situated, shockley mcmurren, sherman anti, ronde lumber, palmer lumber
Document Status: UGLY