v0458-147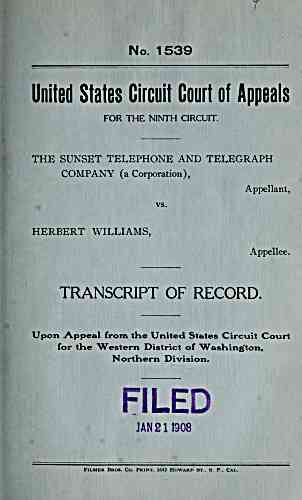 No. 1539
United States Circuit Court of Appeals
FOR THE NINTH CIRCUIT.
THE SUNSET TELEPHONE AND TELEGRAPH
COMPANY (a Corporation),
Appellant,
vs.
HERBERT WILLIAMS,
Appellee.
TRANSCRIPT OF RECORD.
Upon Appeal from tKe United States Circuit Court
for tKe "Western District of WasKinton,
NortKern Division.
FILED
JAN 2 11908
FiLMER Bros. Co. Print, 1642 Howarp St., S. F., Cal.
---
archive.org Volume Name: govuscourtsca9briefs0458
Volume: http://archive.org/stream/govuscourtsca9briefs0458
Document Link: http://archive.org/stream/govuscourtsca9briefs0458#page/n146/mode/1up
Top Keywords (auto-generated):
washington, complainant, herbert, williams, telephone, western, sunset, 1907, telegraph, district, bill, solicitors, northern, corporation, demurrer
Top Key Phrases (auto-generated):
sunset telephone, western district, herbert williams, washington northern, reeves ayres, herbert williams., corporation complainant, western dist., mcmicken dovell, hughes mcmicken, northern di, moore dep., di vision., kenyon solicitors, telephone telegraph
Document Status: UGLY