v0458-195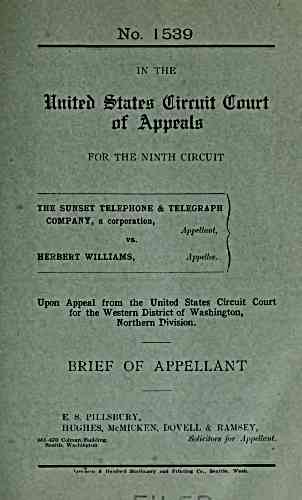 No. 1539
IN THE
HnttpJi ^MtB (Etrrutt (Court
of Appeals
FOR THE NINTH CIRCUIT
THE SUNSET TELEPHONE & TELEGRAPH
COMPANY, a corporation,
Appellant,
vs.
HERBERT WILLIAMS, Appellee.
Upon Appeal from the United States Circuit Court
for the Western District of Washington,
Northern Division.
BRIEF OF APPELLANT
PILLSBURY,
HUGHES, McMICKEN, DOVELL & RAMSEY,
661-670 Colman Building. SoHcltorS foV Appellant.
Seattle, Washiintton.
'.iivviii-it) X- Jlniiford Slatlo'.ierjr and Priiitliie Co.. Seattle. Wash.
I '
---
archive.org Volume Name: govuscourtsca9briefs0458
Volume: http://archive.org/stream/govuscourtsca9briefs0458
Document Link: http://archive.org/stream/govuscourtsca9briefs0458#page/n194/mode/1up
Top Keywords (auto-generated):
contract, complainant, equity, jurisdiction, bill, relief, rights, remedy, equitable, injury, right, lost, accident, mass, courts
Top Key Phrases (auto-generated):
san francisco, est factum, non est, january 20th, herbert williams, equitable jurisdiction, defend ant, adequate remedy, 20th 1905, sunset telephone, rem edy, protect ourselves, pillsbury hughes, paine 119, mutual rights
Document Status: UGLY