v0458-403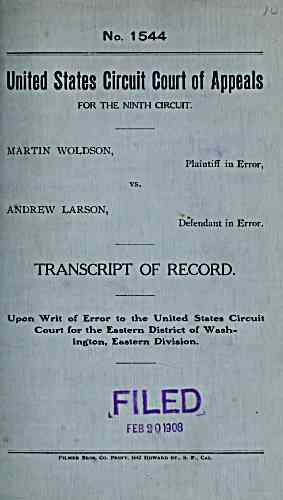 No. 1544
United States Circuit Court of Appeals
FOR THE NINTH CIRCUIT.
MARTIN WOLDSON,
Plaintiff in Error,
vs.
ANDREW LARSON,
Defendant in Error.
TRANSCRIPT OF RECORD.
Upon "Writ of Error to tKe United States Circviit
Court for tKe Eastern District of "WasK-
ington. Eastern Division.
FILED
FEB 2 01908
FiLMER Bros. Co. Print, 1642 Howard St., S. F., Cal.
---
archive.org Volume Name: govuscourtsca9briefs0458
Volume: http://archive.org/stream/govuscourtsca9briefs0458
Document Link: http://archive.org/stream/govuscourtsca9briefs0458#page/n402/mode/1up
Top Keywords (auto-generated):
larson, woldson, wife, martin, andrew, washington, eastern, money, room, saw, hanson, district, damages, wallace, occurring
Top Key Phrases (auto-generated):
martin woldson, andrew larson., eastern district, andrew larson, exception noted, instruction numbered, cullen block, washington eastern, requested instruction, pacific hotel, eastern divi, divi sion., edward whitson, andretv larson., cullen house
Document Status: UGLY