v0462-417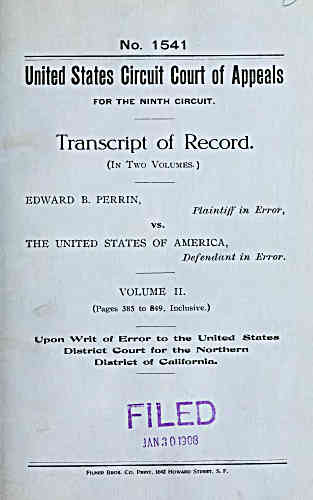 L^
No. 1541
United States Circuit Court of Appeals
FOR THE NINTH CIRCUIT.
Transcript of Record.
(In Two Volumes.)
EDWARD B. PERRIN,
Plaintiff in Error,
vs.
THE UNITED STATES OF AMERICA,
Defendant in Error.
VOLUME II.
(Pages 385 to 849, Inclusive.)
Upon Writ of Error to the United States
District Court for the ISorthern
District of California.
FILED
JAN3 01908
FiLMER BROS. Co. Print, 1642 Howard Street, S. F.
---
archive.org Volume Name: govuscourtsca9briefs0462
Volume: http://archive.org/stream/govuscourtsca9briefs0462
Document Link: http://archive.org/stream/govuscourtsca9briefs0462#page/n416/mode/1up
Top Keywords (auto-generated):
perrin, benson, snell, land, dr, dunne, edward, devlin, campbell, contract, office, lands, black, williams, honor
Top Key Phrases (auto-generated):
san francisco, land office, forest reserve, northern district, truth honesty, ben son, non mineral, tehama county, reserve scrip, october 31st, mineral affidavits, doctor perrin, december 1903, timber land, san francisco.,
Document Status: UGLY