v0465-234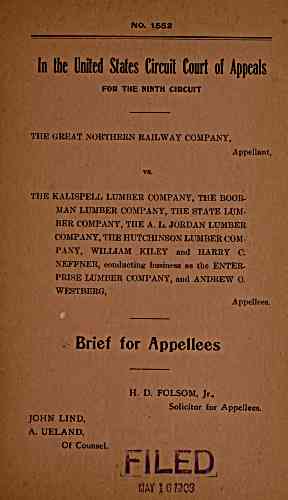 NO. 1552
In the United States Circuit Court of Appeals
FOR THE NINTH CIRCUIT
THE GREAT NORTHERN RAILWAY COMPANY,
Appellant,
vs.
THE KALISPELL LUjMBER COMPANY, THE BOOR-
lAIAN LUMBER COMPANY, THE STATE LUM-
BER COMPANY, THE A. L. JORDAN LUMBER
COMPANY, THE HUTCIJINSON LUMBER COM-
PANY, WILLIAM KILEY and HARRY C.
NEFFNER, conducting business as the ENTER.
PRISE LUMBER COIVIPANY, and ANDREW 0.
WESTBERG,
Appellees.
Brief for Appellees
JOHN LIND,
UELAND,
Of Counsel.
FOLSOM, Jr.,
Solicitor for Appellees.
r i LED.
MAY1G???3
---
archive.org Volume Name: govuscourtsca9briefs0465
Volume: http://archive.org/stream/govuscourtsca9briefs0465
Document Link: http://archive.org/stream/govuscourtsca9briefs0465#page/n233/mode/1up
Top Keywords (auto-generated):
jurisdiction, courts, power, federal, rates, property, interstate, commerce, rate, constitution, congress, supreme, amendment, laws, exclusive
Top Key Phrases (auto-generated):
interstate commerce, federal courts, fifth amendment, exclusive jurisdiction, judicial power, anti trust, fourteenth amendment, establishing rates, adequate remedy, william kiley, temporary injunction, regulate commerce, rates established, prise lumber, pany william
Document Status: UGLY