v0466-7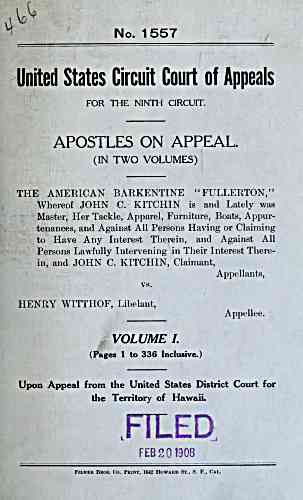 ,
No. 1557
United States Circuit Court of Appeals
FOR THE NINTH CIRCUIT.
APOSTLES ON APPEAL.
(IN TWO VOLUMES)
THE AMERICAN BARKENTINE "FULLERTON,"
Whereof JOHN C. KITCHIN is and Lately was
Master, Her Tackle, Apparel, Furniture, Boats, Appur-
tenances, and Against All Persons Having or Claiming
to Have Any Interest Therein, and Against All
Persons Lawfully Intervening in Their Interest There-
in, and JOHN C. KITCHIN, Claimant,
Appellants,
vs.
HENRY WITTHOF, Libelant,
Appellee.
VOLUME I.
(Pages 1 to 336 Inclusive.)
Upon Appeal from the United States District Court for
the Territory of Hawaii.
FILEQ
FEB 2 01908
Filmer Bros. Co. Print, 1642 Howard St., S. F., Cal.
---
archive.org Volume Name: govuscourtsca9briefs0466
Volume: http://archive.org/stream/govuscourtsca9briefs0466
Document Link: http://archive.org/stream/govuscourtsca9briefs0466#page/n6/mode/1up
Top Keywords (auto-generated):
witthof, chain, henry, fullerton, port, american, barkentine, lewis, captain, wildcat, 1907, arm, wind, ship, right
Top Key Phrases (auto-generated):
henry witthof., american barkentine, barkentine fullerton, port harford, henry witthof, san francisco, anchor chain, william carter, captain william, port chain, carter warland., hawse pipe, tackle apparel, furniture boats, towing bitt
Document Status: UGLY