v0473-577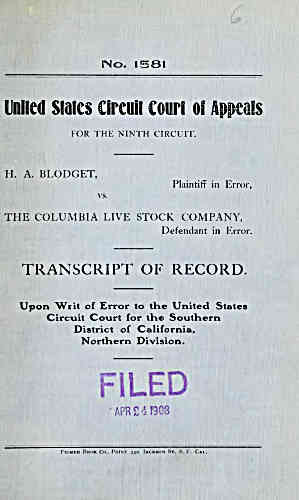 uw
No. 1H331
United Slotcs Circuif couri of Appeols
FOR THE NINTH CIRCUIT.
BLODGET,
Plaintiff in Error,
vs.
THE COLUxMBIA LIVE STOCK COMPANY,
Defendant in Error.
TRANSCRIPT OF RECORD.
Upon Writ of Error to tKe United States
Circuit Court for tKe SoutKern
District of California,
NortHern Division.
' 'fJBB'**
APR 2 4 1908
Fii.MER Brdr. Co.. Print 330 Jackson St. S. F. Ci,.
---
archive.org Volume Name: govuscourtsca9briefs0473
Volume: http://archive.org/stream/govuscourtsca9briefs0473
Document Link: http://archive.org/stream/govuscourtsca9briefs0473#page/n576/mode/1up
Top Keywords (auto-generated):
lessee, premises, oil, lease, stock, gas, live, blodget, lessor, columbia, leased, california, depth, district, southern
Top Key Phrases (auto-generated):
live stock, columbia live, leased premises, southern district, van dyke, california northern, ascertained therefrom, los angeles, prem ises, notary public, byron waters, 27th 1904, williams deputy., pipe lines, liquidated damages
Document Status: UGLY