v0482-181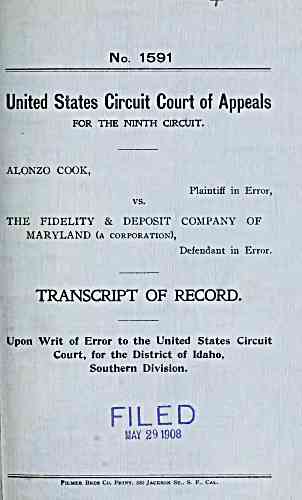 No. 1591
United States Circuit Court of Appeals
FOR THE NINTH CIRCUIT.
ALONZO COOK,
Plaintiff in Error,
VS.
THE FIDELITY & DEPOSIT COMPANY OF
MARYLAND (a corporation),
Defendant in Error.
TRANSCRIPT OF RECORD.
Upon Writ of Error to the United States Circuit
Court, for the District of Idaho,
Southern Division.
FILED
MAY 29 1908
FiLMER Bros Co. Print, 330 Jackson St., S. F., Cal.
---
archive.org Volume Name: govuscourtsca9briefs0482
Volume: http://archive.org/stream/govuscourtsca9briefs0482
Document Link: http://archive.org/stream/govuscourtsca9briefs0482#page/n180/mode/1up
Top Keywords (auto-generated):
cook, cattle, alonzo, uinta, hereford, 1905, sheep, idaho, deposit, fidelity, maryland, head, august, delivered, stock
Top Key Phrases (auto-generated):
alonzo cook, uinta hereford, hereford cattle, fidelity deposit, bear lake, idaho southern, lake county, cross petition, alonzo cook., omaha nebraska, stone bankers, mary land, sep tember, ford cattle, august 1905,
Document Status: UGLY