v0482-7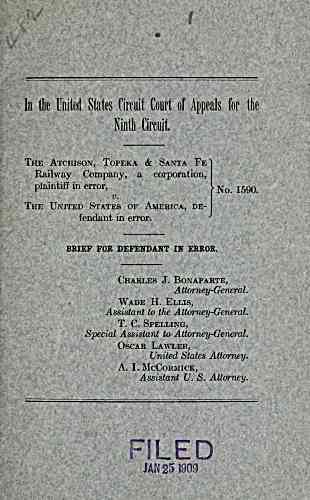 In the United States Circuit Court of Appeals for tlie
Ninth Circuit.
The Atchison, Topeka & Santa Fe'
Railway Company, a corporation,
plaintiff in error,
The United States of America, de-
fendant in error.
No. 1590.
BRIEF FOR DEFENDANT IN ERROR.
Charles J. Bonaparte,
A ttorney-Genera I .
Wade H. Ellis,
Assistant to the Attorney-General.
Spelling,
Special Assistant to Attorney-General.
Oscar Lawler,
United States Attorney.
McCoRMICK,
Assistant U. S. Attorney.
f* J L. tl L/
JAN 25 1909
---
archive.org Volume Name: govuscourtsca9briefs0482
Volume: http://archive.org/stream/govuscourtsca9briefs0482
Document Link: http://archive.org/stream/govuscourtsca9briefs0482#page/n6/mode/1up
Top Keywords (auto-generated):
rate, indictment, carrier, statute, concession, offense, tariff, lime, freight, shipper, lawful, common, car, armour, transportation
Top Key Phrases (auto-generated):
interstate commerce, common carrier, bulk lime, word wilful, santa fe, lawful rate, fe railway, carload lots, topeka santa, tariff rate, published rate, atchison topeka, evi dence, car load, actual weight
Document Status: UGLY