v0484-587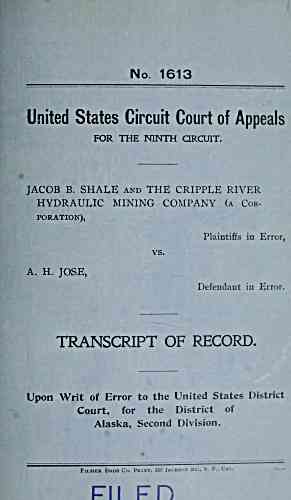 No. 1613
United States Circuit Court of Appeals
FOR THE NINTH CIRCUIT.
JACOB B. SHALE and THE CRIPPLE RIVER
HYDRAULIC MINING COMPANY (a Cor-
poration),
Plaintiffs in Error,
vs.
JOSE,
Defendant in Error.
TRANSCRIPT OF RECORD.
Upon Writ of Error to the United States District
Court, for the District of
Alaska, Second Division.
FiLMER Bros Co. Print, 330 Jackson St., S. F.. Cai..
Fll FH
---
archive.org Volume Name: govuscourtsca9briefs0484
Volume: http://archive.org/stream/govuscourtsca9briefs0484
Document Link: http://archive.org/stream/govuscourtsca9briefs0484#page/n586/mode/1up
Top Keywords (auto-generated):
jose, district, shale, alaska, mining, jacob, claims, river, cripple, hydraulic, nome, handshy, creek, crane, corporation
Top Key Phrases (auto-generated):
cripple river, river hydraulic, hydraulic mining, crane creek, mining claims, placer mining, inside claims, nome alaska, allison bruner, nome alaska., ple river, outside claims, tier right, right limit, crip ple
Document Status: UGLY