v0492-141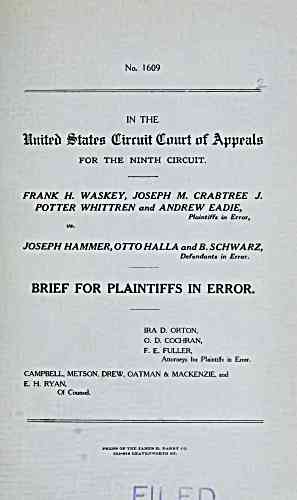 No. 1609
IN THE
Intoi StnUB (Etrrmt (tonvt nf Appeals
FOR THE NINTH CIRCUIT.
FRANK H. WASKEY, JOSEPH M. CRABTREE J.
POTTER WHITTREN and ANDREW EADIE,
Plaintiffs in Error,
JOSEPH HAMMER, OTTO HALLA andB. SCHWARZ,
Defendants in Error.
BRIEF FOR PLAINTIFFS IN ERROR.
IRA D. ORTON,
COCHRAN.

FULLER.
Attorneys for Plaintiffs in Error.
CAMPBELL, METSON, DREW. OATMAN & MACKENZIE, and
RYAN,
Of Counsel.
Ph Fn
---
archive.org Volume Name: govuscourtsca9briefs0492
Volume: http://archive.org/stream/govuscourtsca9briefs0492
Document Link: http://archive.org/stream/govuscourtsca9briefs0492#page/n140/mode/1up
Top Keywords (auto-generated):
land, location, mineral, office, surveyor, discovery, section, deputy, mining, department, government, statute, public, survey, work
Top Key Phrases (auto-generated):
deputy mineral, mineral surveyor, land office, land department, bon voyage, public lands, section 452, land office., valid location, revised statutes, officers clerks, mineral surveyors, field notes, mining claims, mineral sur
Document Status: UGLY