v0492-257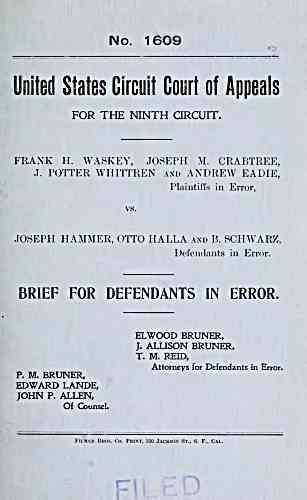 No. 1609
United States Circuit Court of Appeals
FOR THE NINTH CIRCUIT.
FRANK H. WASKEY, JOSEPH M. CRABTREE,
POTTER WHITTREN and ANDREW EADIE,
Plaintiffs in Error,
vs.
JOSEPH HAMMER, OTTO HALLA and B. SCHWARZ,
Defendants in Error.
BRIEF FOR DEFENDANTS IN ERROR.
ELWOOD BRUNER,
ALLISON BRUNER.

REID,
Attorneys for Defendants in Error.
BRUNER,
EDWARD LANDE,
JOHN P. ALLEN,
Of Counsel.
FiLMER Bi:os. Co. Print, 330 Jackson St., S. F., Cal.
f-
'
---
archive.org Volume Name: govuscourtsca9briefs0492
Volume: http://archive.org/stream/govuscourtsca9briefs0492
Document Link: http://archive.org/stream/govuscourtsca9briefs0492#page/n256/mode/1up
Top Keywords (auto-generated):
location, land, trans, office, whittren, bon, voyage, mining, deputy, mineral, surveyor, discovery, public, valid, lands
Top Key Phrases (auto-generated):
bon voyage, land office, deputy mineral, golden bull, potter whittren, mineral surveyor, bull placer, valid location, placer mining, otto halla, mining location, max roth, section 452, public lands, officers clerks
Document Status: UGLY