v0492-279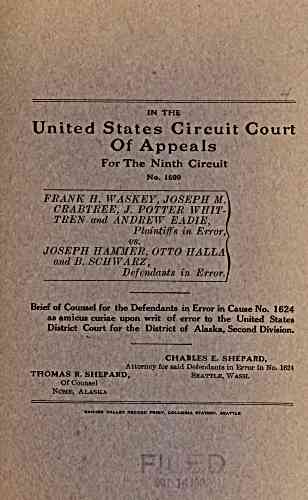 IN THE
United States Circuit Court
Of Appeals
For The Ninth Circuit
No. 1609
FRANK H. WASKEY, JOSEPH M)
CRABTREE, J. POTTER WHIT-
TREN and ANDREW EADIE,
Plaintiffs in Error }
vs.
JOSEPH HAmiER, OTTO HALLA
and B. SCHWARZ,
Defendants in Error.
Brief of Gunsel for the Defendants in Error in Cause No. 1624
as amicus curiae upon writ of error to the United States
District Court for the District of Alaska, Second Division.
CHABLES E. SHEPARD,
Attorney for said Defendants in Error in No. 1624
THOMAS R. SHEPARD, Seattle, Wash.
Of Counsel
Nome, Alaska
rainier VALLIY record print. COLUMBIA STATION. SEATTLE
---
archive.org Volume Name: govuscourtsca9briefs0492
Volume: http://archive.org/stream/govuscourtsca9briefs0492
Document Link: http://archive.org/stream/govuscourtsca9briefs0492#page/n278/mode/1up
Top Keywords (auto-generated):
discovery, location, 1903, lines, office, voyage, surveyor, halla, 1902, golden, bull, bon, title, statute, survey
Top Key Phrases (auto-generated):
golden bull, bon voyage, december 1903, superior title, land office, conflict area, deputy mineral, valid location, timber culture, mineral surveyor, mineral lands, min eral, interior department, deputy surveyor, bull mining
Document Status: UGLY