v0492-335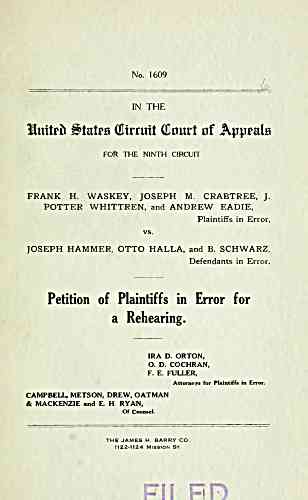 No. 1609
IN THE
MnxUh ^UUb Oltrrutt (Hanvt nf Appala
FOR THE NINTH CIRCUIT
FRANK H. WASKEY, JOSEPH M. CRABTREE, J.
POTTER WHITTREN, and ANDREW EADIE,
Plaintiffs in Error,
JOSEPH HAMMER. OTTO HALLA, and B. SCHWARZ.
Defendants in Error.
Petition of Plaintiffs in Error for
a Rehearing.
IRA D. ORTON,
COCHRAN,

FULLER,
Attorneys for Plaintiff* in Error.
CAMPBELL, METSON, DREW, OATMAN
& MACKENZIE and E. H RYAN,
Of Counsel.
THE JAMES H. BARRY CO.
1122-1124 Mission St.
Rff RR
---
archive.org Volume Name: govuscourtsca9briefs0492
Volume: http://archive.org/stream/govuscourtsca9briefs0492
Document Link: http://archive.org/stream/govuscourtsca9briefs0492#page/n334/mode/1up
Top Keywords (auto-generated):
purchase, statute, location, land, office, section, right, lands, mineral, void, surveyor, bank, statutes, deputy, public
Top Key Phrases (auto-generated):
mineral surveyor, land office, deputy mineral, national bank, section 452, revised statutes, public lands, italics ours., becoming interested, term purchase, pur chase, public lands., palmer 132, foreign corporations, foreign corporation
Document Status: UGLY