v0492-7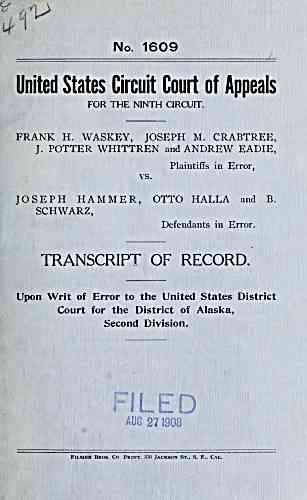 ^ ..A
No. 1609
United States Circuit Court of Appeals
FOR THE NINTH CIRCUIT.
FRANK H. WASKEY, JOSEPH M. CRABTREE,
POTTER WHITTREN and ANDREW EADIE,
Plaintiffs in Error,
VS.
JOSEPH HAMMER, OTTO HALLA and B.
SCHWARZ,
Defendants in Error.
TRANSCRIPT OF RECORD.
Upon Writ of Error to the United States District
Court for the District of Alaska,
Second Division.
rlLED
AUG 271908
Kilmer Bros. Co Print. 350 Jackson St., S. F., C.i..
---
archive.org Volume Name: govuscourtsca9briefs0492
Volume: http://archive.org/stream/govuscourtsca9briefs0492
Document Link: http://archive.org/stream/govuscourtsca9briefs0492#page/n6/mode/1up
Top Keywords (auto-generated):
district, stake, alaska, whittren, waskey, potter, joseph, eadie, corner, frank, nome, hammer, mining, bon, 1903
Top Key Phrases (auto-generated):
joseph hammer, potter whittren, andrew eadie, bon voyage, otto halla, golden bull, placer mining, northeast corner, cape nome, potter whittren., nome alaska, field notes, northwest corner, waskey joseph, otto halla.,
Document Status: UGLY