v0496-335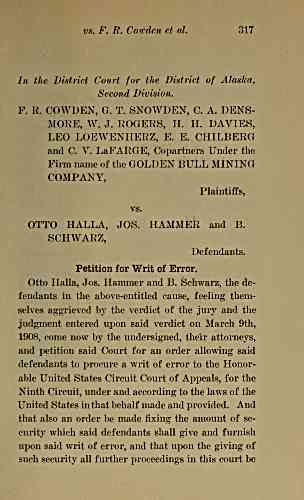 vs. F, R, Cow den et al. 317
In the District Court for the District of Alaska,
Second Division,
COWDEN, G. T. SNOWDEN, C. A. DENS-
MORE, W. J. ROGERS, H. II. DAVIES,
LEO LOEWENHERZ, E. E. CHILBERG
and C. V. LaFxiRGE, Copartners Under the
Firm name of the GOLDEN BULL MINING
COMPANY,
Plaintiffs,
vs.
OTTO HALLA, JOS. HAMMER and B.
SCHWARZ,
Defendants.
Petition for Writ of Error.
Otto Halla, Jos. Hammer and B. Schwarz, the de-
fendants in the above-entitled cause, feeling them-
selves aggrieved by the verdict of the jury and the
judgment entered upon said verdict on March 9th,
1908, come now by the undersigned, their attorneys,
and petition said Court for an order allowing said
defendants to procure a writ of error to the Honor-
able United States Circuit Court of Appeals, for the
Ninth Circuit, under and according to the laws of the
United States in that behalf made and provided. And
that also an order be made fixing the amount of se-
curity which said defendants shall give and furnish
upon said writ of error, and that upon the giving of
such security all further proceedings in this court be
---
archive.org Volume Name: govuscourtsca9briefs0496
Volume: http://archive.org/stream/govuscourtsca9briefs0496
Document Link: http://archive.org/stream/govuscourtsca9briefs0496#page/n334/mode/1up
Top Keywords (auto-generated):
district, alaska, lease, halla, otto, cowden, trans, 1908, premises, golden, possession, bull, schwarz, bruner, mining
Top Key Phrases (auto-generated):
otto halla, golden bull, halla jos., bull mining, davies leo, allison bruner, leo loewenherz, lafarge copartners, elwood bruner, alaska ss., nome alaska., bull min, 1908 february, 1906 trans., trespassers waskey
Document Status: UGLY