v0496-7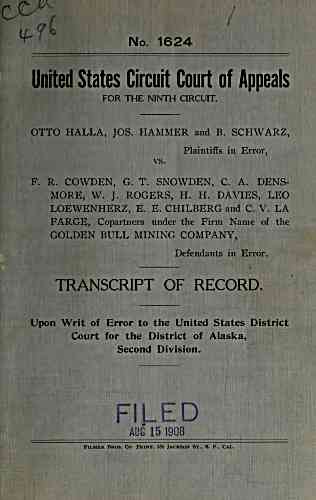 No. 1624
United States Circuit Court of Appeals
FOR THE NINTH CIRCUIT.
OTTO HALLA, JOS. HAMMER and B. SCHWARZ,
Plaintiffs in Error,
vs.
COWDEN, G. T. SNOWDEN, C. A. DENS-
MORE, W. J. ROGERS, H. H. DAVIES, LEO
LOEWENHERZ, E. E. CHILBERG and C. V. LA
FARGE, Copartners under the Firm Name of the
GOLDEN BULL MINING COMPANY,
Defendants in Error.
TRANSCRIPT OF RECORD.
Upon Writ of Error to the United States District
Court for the District of Alaska,
Second Division.
FILED
AUG 15 1908
FiLMER Bros. Co. Print, 330 Jackson St., S. F., Cal.
---
archive.org Volume Name: govuscourtsca9briefs0496
Volume: http://archive.org/stream/govuscourtsca9briefs0496
Document Link: http://archive.org/stream/govuscourtsca9briefs0496#page/n6/mode/1up
Top Keywords (auto-generated):
lease, halla, schwarz, bull, golden, otto, cowden, reed, possession, mining, ground, rogers, work, densmore, hammer
Top Key Phrases (auto-generated):
golden bull, otto halla, bull mining, bon voyage, otto halla., pos session, otto holla, joseph hammer, defend ants, halla jos., posses sion, elwood bruner, deer lodge, golden bull., fred cowden
Document Status: UGLY