v0500-369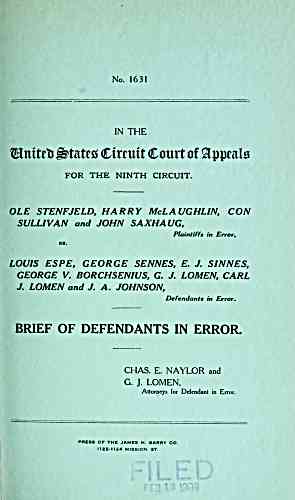 No. 1631
IN THE
Sauitetr States; Circuit Court of aippeala
FOR THE NINTH CIRCUIT.
OLE STENFJELD, HARRY McLAUGHLIN, CON
SULLIVAN and JOHN SAXHAUG,
Plaintiffs in Error,
vs.
LOUIS ESPE, GEORGE SENNES, E. J. SINNES,
GEORGE V. BORCHSENIUS, G. J. LOMEN, CARL
LOMEN and J. A. JOHNSON,
Defendants in Error.
BRIEF OF DEFENDANTS IN ERROR.
CHAS. E. NAYLOR and
LOMEN,
Attorneys for Defendant in Error.
PRESS OF THE JAMES H. BARRY CO.
1I22-)I24 MISSION ST
f I 1. '' l-^*
---
archive.org Volume Name: govuscourtsca9briefs0500
Volume: http://archive.org/stream/govuscourtsca9briefs0500
Document Link: http://archive.org/stream/govuscourtsca9briefs0500#page/n368/mode/1up
Top Keywords (auto-generated):
assignment, location, possession, title, instruction, fol, hercules, fols, pac, claims, premises, eagle, discovery, ct, stenfjeld
Top Key Phrases (auto-generated):
hercules location, markland 130, instruction requested, suf ficiently, rose 114, request contained, john saxhaug, hercules location., funchion 161, ficiently instructed, 95 pac, tonopah 125, parkland location., ole stenfjeld, farrell 86,
Document Status: UGLY