v0500-407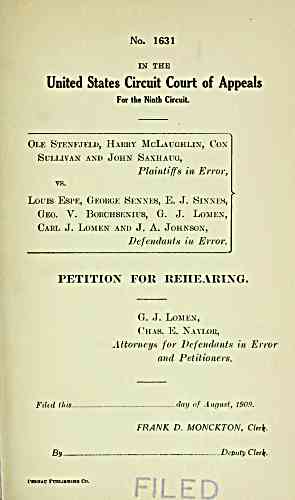 No. 1631
IN THE
United States Circuit Court of Appeals
For the Ninth CircuiL
Ole Stenfjeld, Harry McLaughlin, Cox
Sullivan and John Saxhaug,
Plaintiffs in Error,
vs.
Louis Espe, George Sennes, E. J. Sinnes,
Geo. V. BoRCHSENius, G. J. Lomen,
Carl J. Lomen and J. A. Johnson,
Defendants in Error,
PETITION FOR REHEARIXG.
Lomen,
Chas. E. Naylor,
Attorneys for Defendants in Error
and Petitioners.
Filed this day of August, 1909.
FRANK D. MONCKTON. Clerk.
Bv
Deputy; Clerk.
rXBNA? rnBMBHlNQ CO.
FILED
---
archive.org Volume Name: govuscourtsca9briefs0500
Volume: http://archive.org/stream/govuscourtsca9briefs0500
Document Link: http://archive.org/stream/govuscourtsca9briefs0500#page/n406/mode/1up
Top Keywords (auto-generated):
location, claims, hercules, non, locator, void, land, contiguous, locations, junior, valid, possession, locators, ground, homestake
Top Key Phrases (auto-generated):
non contiguous, hercules location, junior locator, snowhill top, non contiguity, golden bull, bon voyage, land department, contiguous claims, southeast corner, placer claims, bunker hill, black jack, valid location., vacant ground
Document Status: UGLY